Accessories
If you support the work the Wilderness Canoe Trust is doing by purchasing a canoe from us, we will sell you the accessories you need at a greatly reduced rate, assist in outfitting and give you a half day skills session included in the price!
If you would like any other accessories we do not have in stock they can be quickly shipped out from Wenonah in North America. Please explore the accessories section of the Wenonah Canoe website.
Whatever you need: roof bar tie down straps, kneeling matts, a child's paddle, extra drop in seats, skid plates, a full carbon blade or a spare aluminium paddle for your canoe - we can help.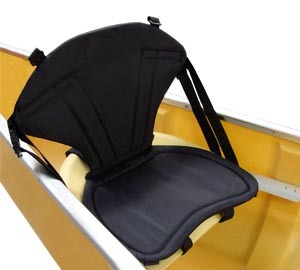 Seats - We have a range in stock, please contact us for more information.
Super Seat
The Super Seat gives back support and cushioning for more comfort and less fatigue. Straps firmly to the seat and adjusts for angle. The bench-style Super Seat is also great used as a camp chair for sitting around the fire. Available for bench or bucket seats. Black colour.
---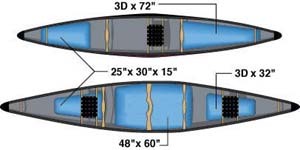 Floatation Bags - Special orders possible, please contact us for more information.
Every Wenonah canoe has enough built-in floatation to keep it afloat if filled with water. However, if swamped in whitewater, a canoe must do more than just float...it must float high to avoid submerged rocks. We strongly recommend supplemental floatation bags, especially in all Royalex canoes. Made of tough nylon and vinyl. We have a range in stock, contact us for more information.
---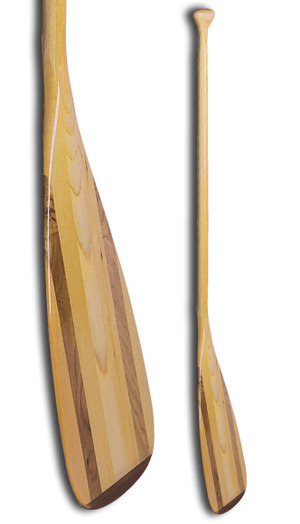 Paddles Wooden - We have a wide range in stock, for all ages and heights, limited supply, please contact us for more information.
Quetico
A superbly balanced, beautiful, and durable elbow paddle designed by Wenonah Canoe founder and owner Mike Cichanowski. This is a great paddle for all general touring uses and wilderness tripping. Laminated basswood shaft with a 8" basswood and butternut blade tipped with polyurethane for added durability. This is also a very affordable spare paddle.
Blade: 8"
Offset: 10°
Weight: 22 oz / 624g
---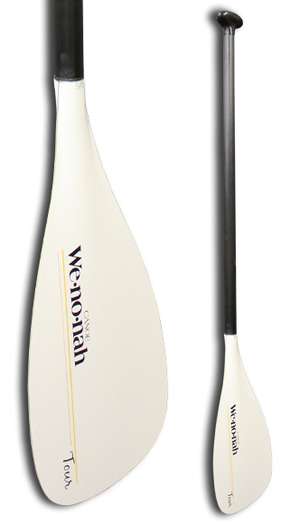 Paddles Composite - We have a range of designs & materials in stock, for a variety of heights, please contact us.
Tour Lite Elbow
Our all new Tour Lite Elbow paddle features a carbon shaft and handle fixed to a fiberglass blade. This construction makes a great weight to price paddle. The smoke-colored blade gives the paddle a new look and readily accepts your custom graphics.
Blade: 8 7/8"
Offset: 10°
Length: 50", 51" 52", 53", 54"
Weight: 16 oz / 450g