Wilderness Canoe Camps - Quality Adventures in the Top of the South
Please get in touch to tailor make a canoe camp for your school or group. Check our Facebook page for examples of previous tailor made camps. (Enquire about how our funding can assist your group).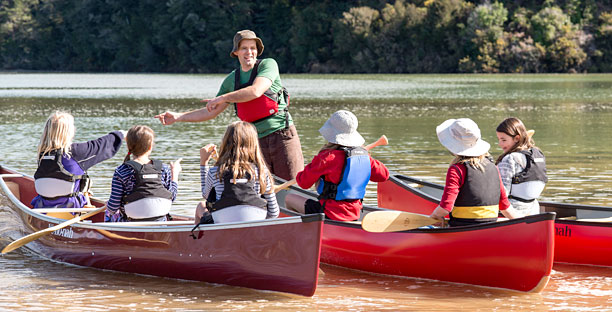 Upcoming Holiday Canoe Camps
Criteria: 
11 - 13 year old (School Years 7 & 8)
14 - 15 year old (School Years 9 & 10)
16 - 17 year old (School Years 11 & 12)
Duration: 3 days and 2 nights
Autumn Holiday 2018:
Dates to be confirmed
11-13 year olds
Dates to be confirmed
14-15 year olds
Spring Holiday 2018:
Dates to be confirmed
11-13 year olds
Dates to be confirmed
14-15 year olds
Summer Holiday 2018/19:
Dates to be confirmed
11-13 year olds
Dates to be confirmed
14-15 year olds
Dates to be confirmed
16-17 year olds
Cost: $150 inc gst - Cost has been reduced by over 60% with Charity funding
2 places are offered under an extra community fund please get in touch if your organisation / family would like more information.
REAL LIFE ADVENTURE
Safe, quality programmes.
Adventure, learning (about self and others) and lots of fun! Bushcraft / shelter building / fire lighting / camp cooking. Learn to carve your own wooden spoon.
The experience is challenging yet designed for success. Emphasis is upon learning from one another and nature in a spirit that honours balance and respect. Director James Alker has a specific interest in fostering youth development in the outdoors. Building on 20 years of outdoor education, mentoring and his own passion for outdoor adventure, the concept of Wilderness Canoe Journeys was born.
Strong emphasis is placed on a true wilderness experience. Exploring open lakes, streams, salt water creeks and the majestic open expanses of the Whanganui inlet on the West Coast of Golden Bay. Group sizes are small with highly qualified and experience male and female staff, 1 staff member to 6 children. Safety is our first priority, we use detailed safety management plans, conduct regular and on-going evaluation of our programmes and undertake external audits.
Catering: All food is provided, we take pride in providing wholesome, healthy food, the campers help cook over an open fire using camp ovens.
Accommodation: Quality tents provided.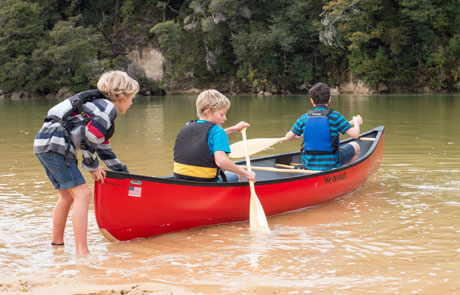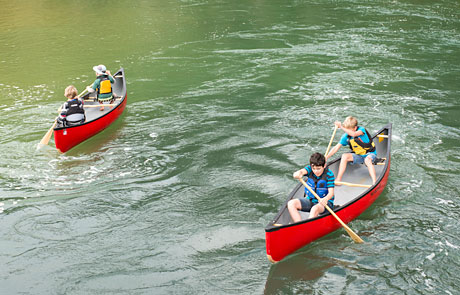 Outdoor Equipment:
Wilderness Canoe Trust Provides:
All safety gear e.g. Personal Floatation Devices
Canoes and paddles
Camp pots for cooking on open fire, stoves when necessary and all fire lighting equipment.
Quality tents – with mosquito net doors.
A large water tight barrel for each camper.
Personal camping equipment such as sleeping bags, sleeping matts, water bottles must be brought by each camper.
Rugged outdoor clothes are the general rule, for the Personal Clothing / Gear List and advice please see below.
Transport
Depart and return to Community House Motueka (behind Motueka i-Site).
Transport Service to and from Nelson airport at an additional cost of $50.00 each way (cost will be reduced if more than one child requires this service). Other pick up / drop off options can be discussed, please do get in touch.