About us / Safety
Director James Alker believes in the power of the outdoors to assist people on their life journeys and develop an appreciation of the environment. After working for many outdoor operators around the world including large organisations such as Outward Bound, he is following his passion developing canoe journeys in New Zealand founding the Wilderness Canoe Charitable Trust.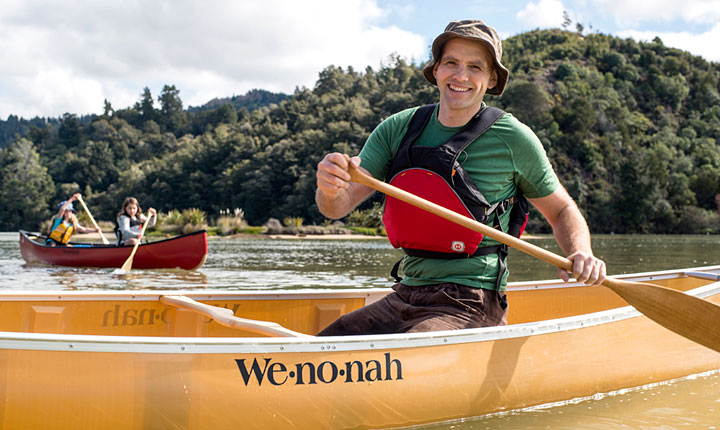 Safety is our priority.
Wilderness Canoe Trust is a member of Outdoors New Zealand and undergoes external safety audits.
We have a robust safety management plan and work with other outdoor operators to develop best practice. Only the best safety and communication equipment is used. There are real consequences and learning from journeying in the outdoors, however a strong conservative safety culture means clients can experience this without being exposed to avoidable risk. Locations are carefully matched to clients and daily weather reports checked. Potential weather issues are identified and plans are adjusted accordingly.
Director James Alker is a member of NZOIA the NZ outdoor instructors association. He has over 20 years experience working in outdoor education around the world, a broad base of outdoor experience and qualifications. He is also a qualified secondary school teacher and has 3 young boys with his wife Cat who is a physiotherapist.
Qualifications, police checks, trust deeds, insurance documents and the safety management plan can all be viewed on request. Wilderness Canoe Trust works hard to constantly update and review safety procedures. There is a strong focus on crisis prevention and pre-planning for crisis management. Staff are mature, experienced decision makers and undertake regular safety training and first aid courses.
Support and donations
If you can help financially or in any other way to support the work we do, please get in touch. The Wilderness Canoe Trust strives to be efficient and responsible with funding to maximise the benefit for as many people as possible. We subsidise places on a variety of courses.