Canoe Camps - Life skills through adventure
Quality Adventures in the Top of the South
Please get in touch to tailor make a canoe camp for your school or group. Check our Facebook page for examples of previous tailor made camps. (Enquire about how our funding can assist your group).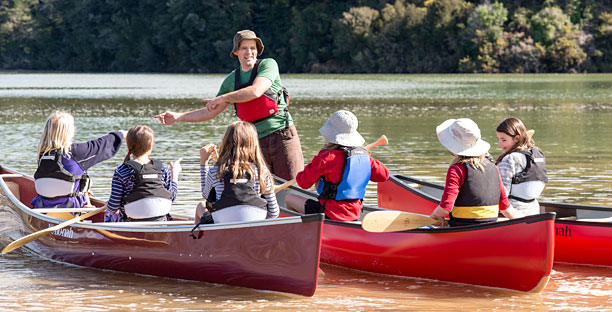 My First Canoe Camp
A two day, one night camp for 9-10 year olds.
Have fun on an amazing canoe adventure.
Plenty of time to swim, relax & explore, play games. Learn camp & bushcraft skills e.g. fire lighting, wood carving, shelter building & camp cooking.
Cost: only $150 (incl. GST) per person
Wilderness Canoe Camp
A three day, two night camp for 11-13 yr olds.
Have a true wilderness experience that is challenging yet designed for success.
A variety of environments can be explored: big rivers, wide-open estuaries, remote lakes & hidden salt water creeks.
Learn from one another & nature in a spirit that honours balance & respect.
Cost: only $225 (incl. GST) per person
School Holiday Canoe Camps 2021/2022
Spring 2021
My First Canoe Camp
Thu 7 - Fri 8 October
Mon 11 - Tue 12 October
Wilderness Canoe Camp
Sun 3 - Tue 5 October
Thu 14 - Sat 16 October
Summer 2022
My First Canoe Camp
Thu 13 - Fri 14 January
Thu 27 - Fri 28 January
Wilderness Canoe Camp
Sun 9 - Tue 11 January
Sun 23 - Tue 25 January
Autumn 2022
My First Canoe Camp
Thu 21 - Fri 22 April
Wilderness Canoe Camp
Sat 23 - Mon 25 April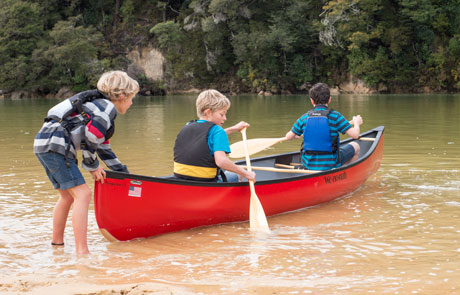 Further information
Director James Alker has a specific interest in fostering youth development in the outdoors. Building on 20 years of outdoor education, mentoring and his own passion for outdoor adventure, the concept of Wilderness Canoe Camps was born.
At these camps you learn about bushcraft, shelter building, fire lighting, camp cooking, and you learn to carve your own wooden spoon. The experience is challenging yet designed for success. Emphasis is upon learning from one another and nature, in a spirit that honours balance and respect. Group sizes are small with highly qualified and experienced staff.
Catering
All cooking equipment and food is provided. We take pride in providing wholesome, healthy food. The campers help cook over an open fire using camp ovens.
Equipment
Quality tents (with mosquito net doors), waterproof barrels, Wenonah Canoes, paddles, life jackets & all safety gear is provided.
Personal camping equipment such as sleeping bags, sleeping matts, and water bottles must be brought by each participant. Rugged outdoor clothes are the general rule. Upon booking you will receive a pack list which includes advice on ideal clothing and gear for the camp.
Cost
The Wilderness Canoe Trust is a registered charity & not-for-profit organisation. As a result, the costs for these camps are significantly subsidized. In addition, there is a limited number of places available at a further reduced fee. Please get in touch if required. There is also a Pay-it-forward option available. Please get in touch if you would like to donate towards another child's camp fees.
How to make a booking
If you have any questions or would like to receive some more information, please give us a call or send us an email. Also have a look at our Facebook page where you will find photos and videos of our previous camps.
020 4099 3185 | info@canoejourneys.co.nz | www.facebook.com/canoejourneys
Are you ready to make your booking? Please give us a call or send us an email to reserve a place. We will then send you a booking form and further information.